Venue
The conference will be held at the Haus der Astronomie (June. 3-7) at the Max Planck Institute for Astronomy. The address is Königstuhl 17, 69117 Heidelberg
As you can see on the map this is not in the city limits. We have arranged for a bus to take participants to/from the conference venue. The bus will depart every morning at 8:30 from one of the bus parking stops behind the Crown Plaza Hotel at here, and take you back to town at the same location in the evening.
We will have our conference dinner on Thursday evening at (19:00) Zum Gueldenen Schaf
The city of Heidelberg
The conference will take place in the historic city of Heidelberg, Germany. Heidelberg is an university town, with an old town squeezed in a V-type vally of the Neckar river between forested hills, and a newer part of town sprawling into the plains of the Rhine valley. It is worthwhile to reserve some time for sightseeing. The castle, the old bridge, the old town and (on the other side of the Neckar river) the "philosophers path" (Philosophenweg) are highly recommended. The city of Heidelberg has its own web site with touristic (and other) information: www.heidelberg.de.
Travel to Heidelberg
When you travel to Heidelberg, it is most convenient to first go to your hotel. The conference venue is not directly in the city center, and it is not a good idea to arrive at the conference venue at off-hours. But transport will be arranged from your hotel or from a central location to the venue and back. Here we give information about your travel to Heidelberg.


By airplane

The closest airport is Frankfurt International Airport (FRA). From there, you can take the train to Heidelberg. Note that there are two train stations at the airport: one for regional trains and one for long-distance trains (the latter is called Fernbahnhof). From the regional train station you can take the train to Frankfurt am Main Hauptbahnhof (the main station of the city of Frankfurt itself), and from there you can take a direct train to Heidelberg. Or you take the ICE train from Frankfurt Flughafen Fernbahnhof to Mannheim (30 minutes), and then from there take the regional train to Heidelberg (15 minutes).
You can also reserve a shuttle bus from TLS. This will be more convenient, as it will bring you straight to your hotel.
By train

The easiest and most convenient train connection to Heidelberg is by ICE train to Mannheim, and then by regional train from Mannheim to Heidelberg (15 minutes). Sometimes an ICE train also goes straight to Heidelberg. You can check out train connections (and book your ticket) on bahn.de.
More instructions for traveling from Frankfurt airport to Heidelberg are provided
here
.
If you have any questions about your travel, please don't hesitate to
ask us
.
Local transportation
The conference venue is not in the city center. It is possible to walk up the hill to the MPIA, but that takes about an hour and is somewhat strenuous.


Conference shuttle bus between downtown and conference venue

As we mentioned above we will provide a shuttle bus (included in the conference fee). The pick-up/drop-off downtown point is here: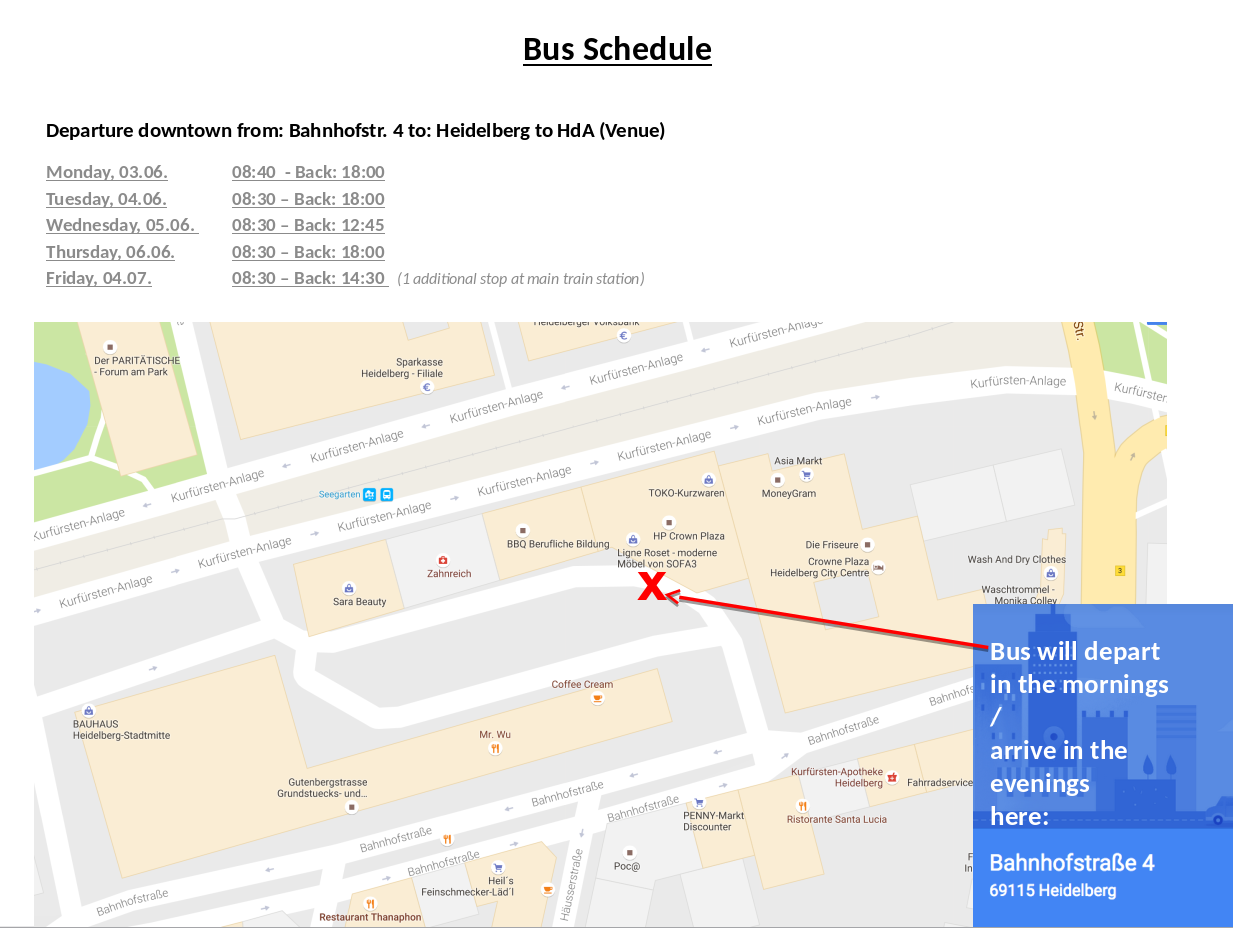 Public transportation to the conference venue

Bus 39 (direction Königstuhl) runs from Bismarckplatz and it takes you very close to the MPIA.
Bus 30 (direction MPIA) runs from Uni platz (Neue Universität) and it takes you directly to the MPIA.
Ruftaxi

The RufTaxi starts running once the bus service has stopped on weekdays from 9:52pm, and departs once an hour. Please call +49 6221 30 20 30 at least 30 minutes before departure time to arrange pick up. Taxis are available from outside Heidelberg main train station or can be ordered under +49 6221 302030. The journey to MPIA from the train station / city centre costs between 10 and 15 Euro.
Private transportation for sightseeing

If you want to do sightseeing (highly recommended), then you can make use of various ways of transportation. Heidelberg is a small town, so everything can be done on foot. But you can also use the buses or trams. Tickets can be bought at the ticket machines at most stops. There is also a fernicular from the old town to the castle and further up to the top of the Königstuhl hill.
Buses and trams (Strassenbahn or Stadtbahn) are the main form of transportation in Heidelberg, with the center hub at Bismarktplatz in the Altstadt. Individual tickets are available, but there are many special passes that make it much more affordable and efficient to get around. Individual tickets can be purchased at ticket machines or with the driver, and passes can be purchased at the ticket counters. Maps of each bus and tram route can be found at every stop.
The size of Heidelberg is relatively small, making it is easy to go wherever you want in a short period of time. Using a bicycle is a great way to do this, though bicycle traffic in Heidelberg can be a bit chaotic. Many streets or walkways have bike lanes, but some do not and can be rather narrow, especially in the old town.
There are several places where renting a bike is possible. Some hotels also offer bike rentals to their guests.
VRNnextbike – bike rental in Heidelberg
Telephone: +49 3069 205046
VRNnextbike